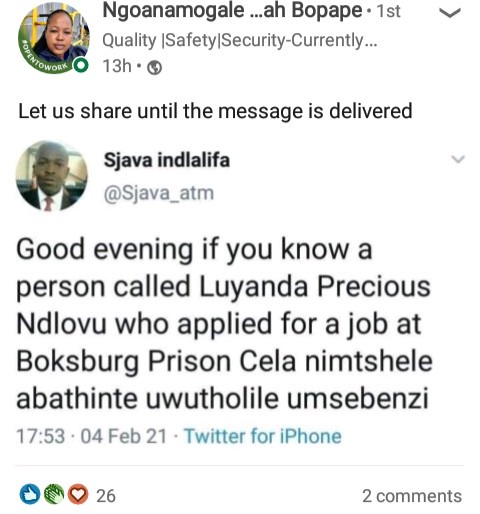 There's nothing that social media can't do, it makes thing's easier for any type of a situation. As brutal as people can get on social media, we can't refute the fact that, many people have been helped through social media, a lot of missing persons were able to be found because of social media.
With the escalation of Unemployment and crumbling economy, one can only hold their breath that, they get a job after that nerve wrecking interview, Luckily for Luyanda ,she's now an employed woman, shes now out of the market but the sad thing is shes nowhere to be found and a search has been lodged.
People are urged to find her, and let her know that, she has found the job.
It's not known why she can't be called, probably the HR department can't get hold of her and now they have decided to spread the word so she goes there.
Anyone who knows her, may let her know before it's too late.
Plwae share the great news, as we can all do with a happy ending for a second.
Content created and supplied by: Pamart92 (via Opera News )