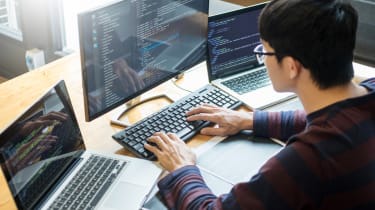 Landing a job at a tech company may start with an interview, but to land an interview, you need be thinking months or years in advance.
Waking up one morning and saying, "You know what? I'd like to work for Google," doesn't work—not if you haven't already done the right things. In this case, doing the right thing means establishing, ideally, all four parts of a framework; relevant skills, prestige/credibility, technical connection, something special.
Let's talk about each of those—and how to obtain them.
A Positioning Framework
The exceptional candidate has coverage of all four areas: skills, credibility, technical connection, and something special. A typical successful candidate, however, has only two or three of these—but is hopefully exceptional in one of these areas. You can compensate for weaknesses in one with strength in the others.
Relevant Skills
If you want to be a software developer, you need software development skills. If you want to be a marketer, you need marketing skills. These skills can come from your college work, volunteering, launching your own business or side project, or your professional life. These skills can include the following:
Field-specific skills
You'll position yourself best for these companies if you develop a specific, tangible skill. If you want to be a marketer, learn about marketing. If you want to be in sales, help a local organization raise money. Without a tangible skill, you'll likely blend in with everyone else—everyone else who's waiting at the door to be let in.
Numerical/quantitative skills
Quantitative skills can be important by themselves, but they can also be important because people think good with numbers equals smart. You can leverage this assumption. Take some classes, either at your school or online, that require math: engineering, calculus, statistics, economics, and so on.
Communication skills
Communication, whether written or oral, is vitally important to your career success. If you aren't comfortable with public speaking, get practice with it. If your writing is weak, take a writing course or start a blog to get more practice. You don't need to be able to do dramatic readings or write elegant prose, but you do need to be able to write in a way that is clean and professional.
Initiative
Initiative is shown through starting things, so start something. This can be a new club at school, running a meet-up on SEO (search engine optimization) skills, or launching a new project at your current job.
Accomplishment
Develop a track record of achievement. Recruiters want to see that you have a pattern of setting ambitious goals and accomplishing them. Your successes could be in academics, project work, volunteer work, employment, or athletics.
Leadership
You don't need to be the president of a club or the manager of your team (though those are nice, of course), but find something you can lead. Kevin, now a Google employee, led the fund-raising process for a local entrepreneurship club. His team of three raised 17 percent more money than they did the year before!
Prestige/Credibility
You don't have to have attended an Ivy League. In fact, most applicants did not attend an exceptional university. However, it sure helps. Finding a way to associate yourself with something prestigious can offer you credibility, here are a few:
Attending a great university, working for a well-known company, working for a start-up funded by a well-known venture capital firm, working for a company with prestigious clients, winning an award, creating a successful side project.
Sometimes, candidates actually have prestige but don't do a great job showing it. Did you mention how selective that award you won was?
Did you specify that you managed the sales account for the top three finance companies? Prestige is often the hardest for candidates to establish. It is not strictly necessary—most candidates do not have prestige—but it dramatically helps your chances. Do the best you can here. 
Don't spread yourself too thin though; depth is more important than breadth. You don't need to play sports and sing and volunteer and teach classes. Pick something and throw yourself into it. You will have much more to show for an activity when you have the time to really pursue it.
Content created and supplied by: DrClement (via Opera News )