Sassa to pay R1050 or R700
za.studio.opera.com
2020-07-28 11:36:07
South Africa and the world at large was hit by this deadly virus vivid 19 which has left a lot of people stranded and a lot of jobs being lost.
With the current economic situation things don't seem to be going the way most people have planned which leaves a lot of people stranded for money.
At the beginning whe all this started the President announced a relief fund to the Sum of R500 billion people in which some of the the finds will be used to curb the unemployment which is at it high
Initially the first mist people were paid R350 which came at right time because most youth needed the funds and to ass the icing on the cake last month most people Got R700.
The biggest question arises will people who haven't been paid at all receive R1050 for the 3 months which they haven't been paid?
Good news for all those people is that they will be paid the R1050.
SMS's where send out for them to collect their money.
Finally then is a sign of relief as the government is doing exactly exactly what they have promised and sassa is delivering on their promise.Lets hope moving forward money can be paid in time every money.
You can still apply for the relive fund on the sassa website or even check your status.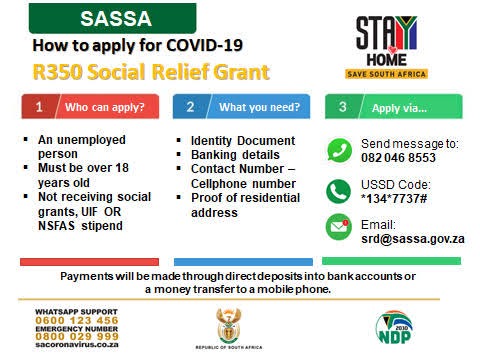 Source: Opera News