African Countries That Owe China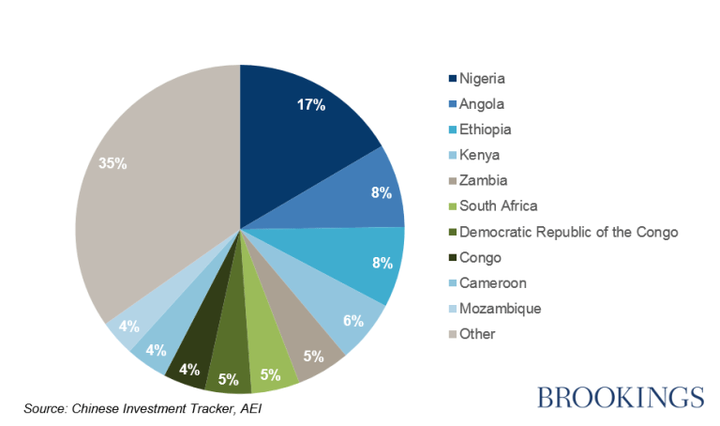 NIGERIA
In August 2019 China Invested $16 Billion in Nigeria's Oil Sector, Crude oil is Nigeria's most lucrative export. While Nigeria's oil industry welcomed China's interest, analysts worried about the lack of transparency in the sector and slow development of the country's renewable energy market.
SOUTH AFRICA
In July 2018, China's president Xi pledged $14.7 billion investment on South Africa during his visit that time.
Other agreements included Ramaphosa signing a deal on Tuesday with Chinese banks to lend a combined total of $2.8 billion which will be much needed cash injection to struggling South African state power utility Eskom and logistics company Transnet.
ANGOLA
In September 2019, it was reported that Chinese investment in Angola exceeds $20 billion.
It is further reported that with the investment, China helped build and repair 2,800 kilometers of railways, 20,000 kilometers of roadways, build 100,000 social houses, more than 100 schools and 50 hospitals.
ETHIOPIA
At the start of 2019, analysts estimated Ethiopia had borrowed more than $12bn from China.
The huge amount was used to to build the Addis Ababa's light railway. Construction on the railway commenced in December 2011 with China's Export-Import Bank providing 85% of the funding for the project. The China Railway Group Limited took three years to complete the 34.4km, two-line system. The lines have been fully operational since November 2015.
ZAMBIA
In 2017, CARI found that Zambia had accumulated loans from China totalling almost 6.4 billion USD at end of2017. If this figure was correct, Zambia probably has a total debt of 14.7 billion.
Of course just like other African countries, the money was used to build railway roads, build schools and Hospital
KENYA
In September 2019, Chinese Industrialists Invested Ksh200 billion($1.8 billion) in Kenya to revolutionize certain sectors like gas, mining, IT, retail, railway and other related sectors
Brookings
https://www.brookings.edu/blog/africa-in-focus/2018/09/06/figures-of-the-week-chinese-investment-in-africa/
VOA News
https://www.google.com/amp/s/www.voanews.com/africa/china-invests-16-billion-nigerias-oil-sector%3famp
The Africa Report
https://www.google.com/amp/s/www.theafricareport.com/15757/ethiopia-could-be-the-first-african-country-to-show-china-it-has-bargaining-power/amp/
Content created and supplied by: ZIPPSTAR (via Opera News )