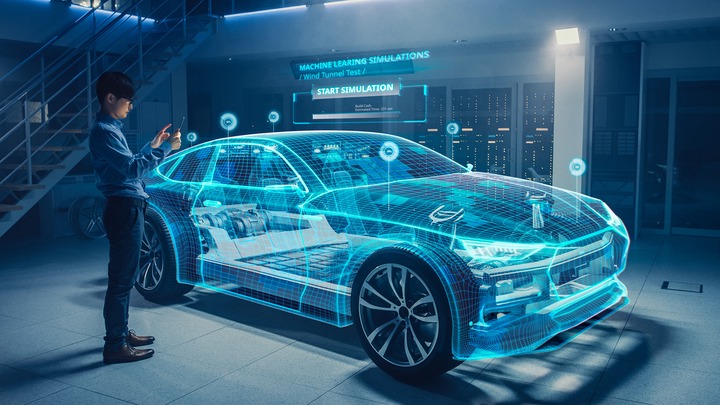 Virtual reality (VR) could be used as part of the virtual-prototyping process, in order to evaluate human–machine interfaces, for example, ease of operability of a device.
The primary challenge in employing VR is to provide the user with a realistic visual sensation of the environment, normally achieved via head-mounted displays capable of generating stereoscopic images.
The secondary challenge is to manipulate the environment through input devices, such as three-dimensional mice (also known as spaceballs) and intelligent gloves for simulating a one-way haptic interface
However, no VR system can be fully useful if it cannot provide the user of the ''virtual product'' with haptic feedback—for example, a user must feel the effort required in opening a car door or lifting and placing luggage into a car's trunk. 
The beginning of VR can be traced to I. Sutherland's work in the late 1960s on head-mounted display. However, VR significantly developed only more than a decade later with the introduction of high-definition graphic display hardware and surface modeling software, as well as a variety of commercial interface devices (especially those developed for the entertainment industry) and flight simulation applications.
Naturally, not all CAD software packages provide easy interface to VR environments: CATIA with its SIMPLIFY module is one the few that not only can simplify geometric models for real-time manipulation but also can increase the quality of surface representations.
VR users need to develop (nontrivial) interface programs for accessing CAD data stored by most other commercial packages, such as ADAMS/Car by Volvo, Renault, BMW, and Audi.
The automotive industry is the most common user of virtual reality in the design of commercial vehicles. Companies such as Chrysler, Ford, and Volkswagen utilize the CAD models of their vehicles to provide engineers with an immersive VR environment, for example, means of visualizing different dashboard configurations for visibility and reachability.
Some have also experimented with VR to evaluate assembly (of door locks, window regulators, etc.) as well as disassembly (of tail lights, etc.) for maintainability. However, in almost all cases, users have been provided with only visual feedback and no force feedback.
In numerous instances, integrated sensors have helped these users in detecting their head and hand movements and adjust the display of the virtual environment accordingly.
It has been claimed that these users could evaluate the goodness of assembly plans, the suitability of tolerances, and the potential collisions with the environment.
Despite intensive CAE and VR efforts and successes, as noted above, problems do arise both in the exact modeling of a product and in its (virtual) analysis process.
It is thus common, and in most cases mandatory owing to governmental regulations, to manufacture physical product prototypes and test them under over-stressed or accelerated conditions (to mimic long-term usage or unusual circumstances).
Such physical prototyping, however, should be restricted to the functional testing of the final optimized product or the fine-tuning of design parameters. It would be costly to use physical prototypes during the parameter-optimization phase, especially if tests require the destruction of the product under duress.
Content created and supplied by: ClementLifestyle (via Opera News )